Elliott's room didn't need a makeover, but I, acting on a whim (again), decided it was time to freshen things up a little bit. I did this change with very little cost.
First, I must deeply apologize for these horrible pictures! I'm still learning how to use my camera, and the bedrooms in our house have the worst lighting.Ever. Sorry!
Here are the before pictures: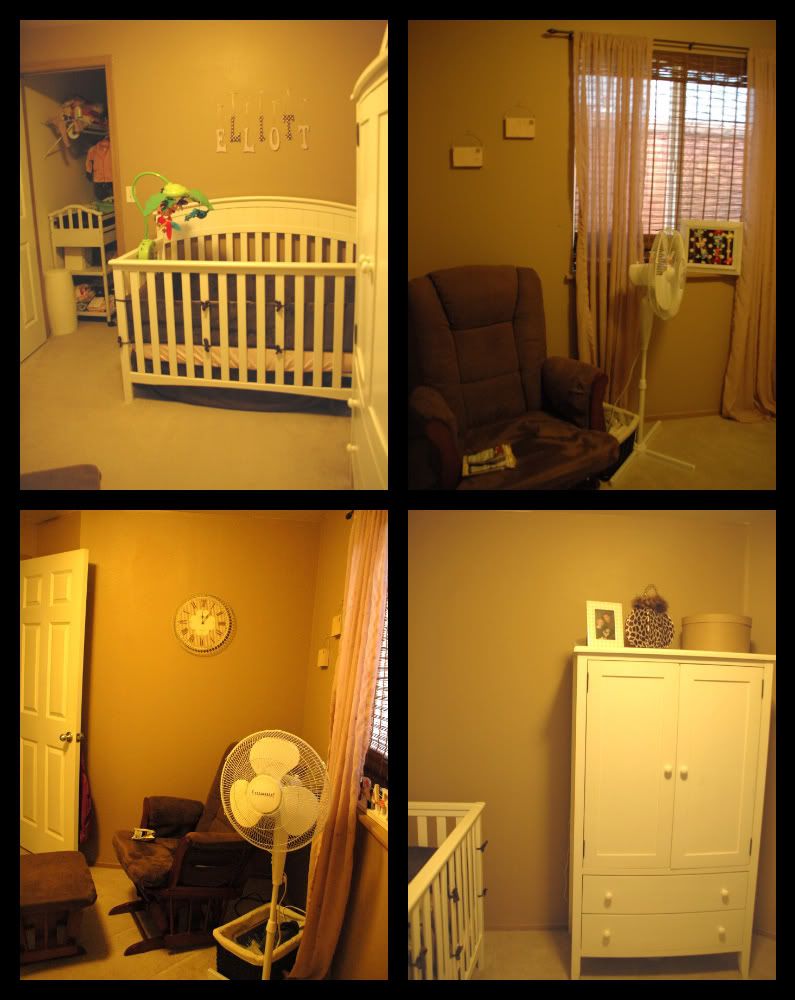 Here's what we did:
~Removed rocking chair and fan
~Added pink rug
~Moved armoire
~Added small white cabinet (used to be in our kitchen)
~Hung and/or moved clock and wall hangings
~Removed front of crib to make it a toddler bed
~Purchased and hung paper lanterns
~Purchased and hung chandelier
~Removed mobile (the top is removeable, so we can still use the base as a music player)
~Added baskets to hold books and toys (these baskets were free....I won them playing Bunco! Ha!)
Here is the finished product!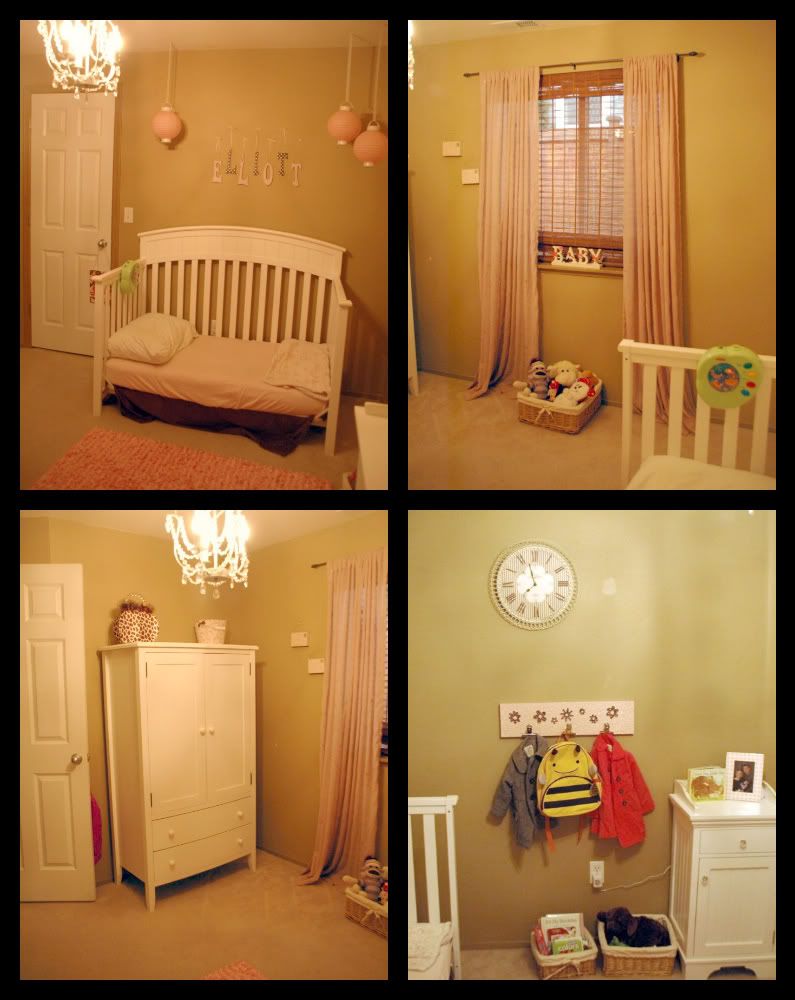 The total cost for this transformation was $70
(Rug - $20 at Target, Chandelier - $40 at Ikea, Lanterns - $10 at Walmart)
Most items were hand-made, hand-me-downs, or found around our house!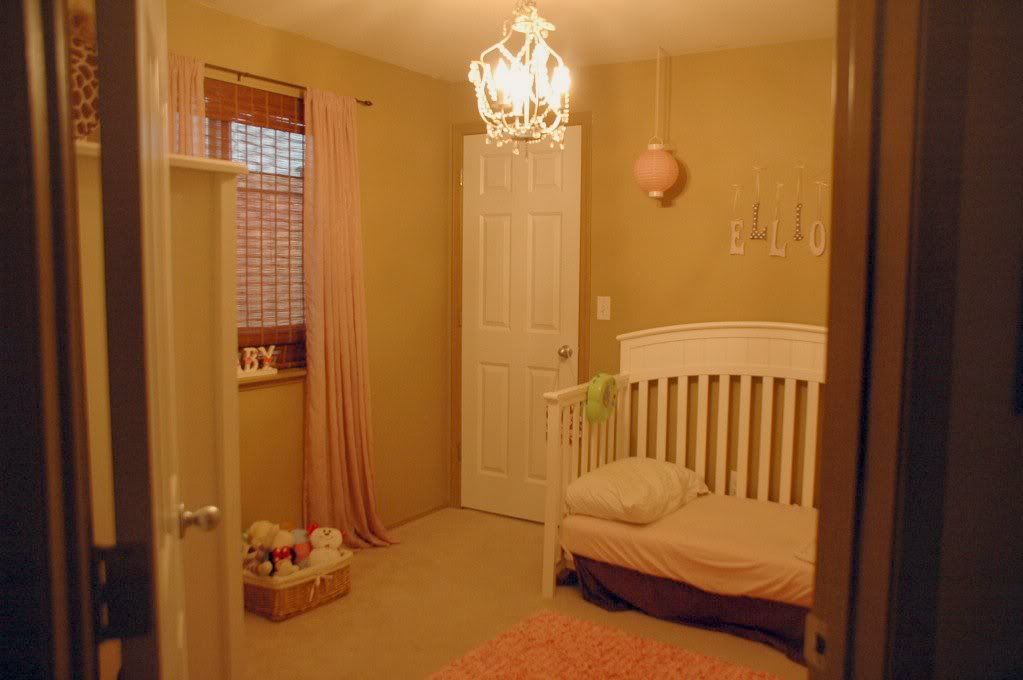 Ellie has been doing great at sleeping in her big girl bed! I was shocked, because I really thought we'd be putting the front of the crib back on the same day we took if off, but she's been doing very well with this change! I'm glad too, because I like the fact that she can get in and out of her own bed. And I think she likes that, too!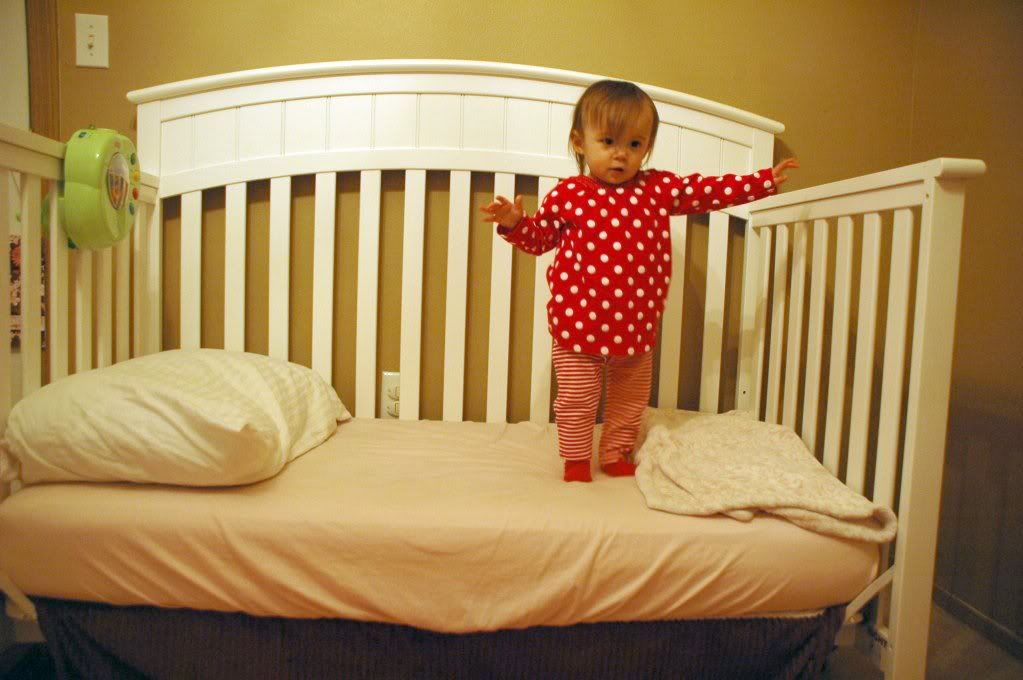 I love the way her room looks now, and I feel like it's a little more kid-friendly. Despite how the pictures may look, Ellie's room is now bright and cheery! It's also a lot more open, and there are even a few soft toys and books for Ellie and I to play with now when we spend time in there. Elliott loves the new rug, and she will often lead me into her room just to lay on the rug and "pet" it. It melts my heart every time!
My absolute favorite additions to the room are the chandelier (which still needs some work....we've gotta do something with that extra cord and chain!) and the lanterns. I'm so happy with how this room makeover went......even if it was on a whim!