I know I promised to share my weight with you (and a weight-loss journey), and I will! It's just that it's finally summer around these parts, and I want to get out there and play with my little girl in the sunshine, you know?! So I will be posting about weightloss very very soon......but for today, let's just do a quick recap of our week in iPhone pics, k?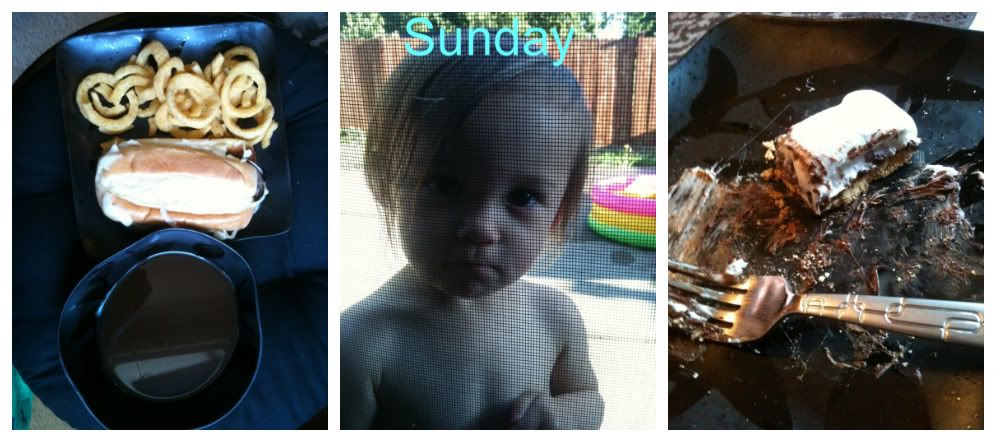 Sunday we ate some num french dips with Funyuns (obviously this was before any effort at weight loss). Then we watched Ellie be cute as she kept shutting the screen door and then giving us "puppy dog eyes". Silly girl. Then we shared some amazing oven baked s'mores (I found the recipe
here
, and they were DElish!!)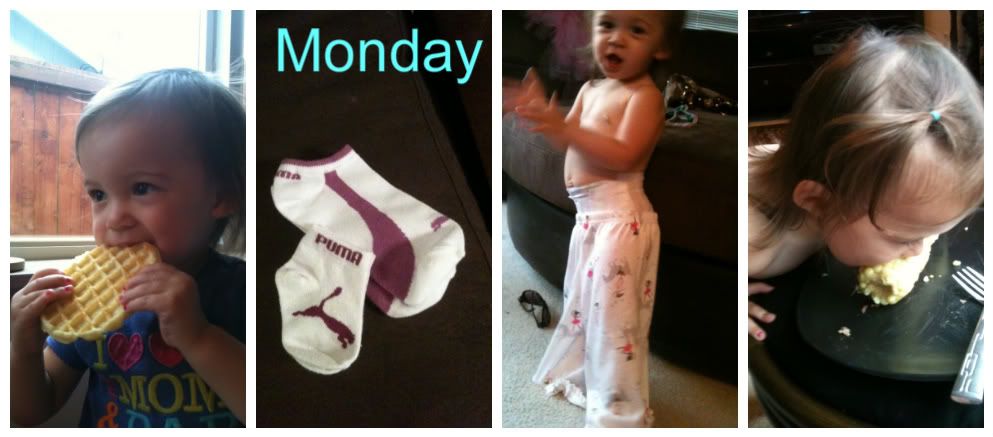 Monday, Elliott slept in until 10:00! She sure was hungry when she woke up!! We pulled out some of our goodies that we got while shopping over the weekend: adorably cute matching momma and tot socks :) and some too big pj's that went back into hiding for a while. Oops! And when we finished dinner, Elliott decided she did like corn on the cob, and ate the leftovers right off of my plate!
Tuesday Elliott fell in love with her new BFF, Elmo. And, she wore cute hand-me-down shoes.
Wednesday we had a little family time before I went off to work and left Ellie to hang out with her daddy for the afternoon. We had Panda Express for lunch.....can you ever have too much panda?! And I loooove seing Ellie eat with chopsticks :) Then we did some swinging at the park, where Ellie looked entirely too grown up, and she had some more snuggle time with Elmo on the way home.
Thursday, Elliott got to come hang out with me at work. We decided she's a pretty decent worker. We'll keep her :) We hit up the park swings again while waiting for Scott's kickball game to start......we didn't get to watch much of the game, though, because someone was crabby. I guess she had a bad day at work or something (lol.....I suck at trying to be funny, I know)! And, I cannot get over how tasty some Slim Fast snacks are! I really didn't miss having a bowl of ice cream after dinner when I got to munch on this 100 calorie chocolate mint snack bar. Yum!

Friday we went to Ellie's 18 month check-up where we learned that she is hanging on to the 3rd percentile for weight. The doctor said "she's perfect.....just tiny". So we left it at that! We do want her to gain some weight, but we're not going to stress about it! And as a reward for taking THREE shots like a champ, we stopped at Starbucks and had a little treat (momma got an iced tea......I needed a reward, 'cause shots are hard for mommas, too!) That evening, my husband completely embarassed me when I turned around while shopping to find him pushing Ellie in a store wheelchair. I just about died. At least they keep me on my toes :)
How was your week? Did you take iPhone pics? Head on over to
A Good Life
and get the link code.....and then link up!