I put it out there that I would like to have an Ad Swap on this blog.
The response that I got was immense. Fabulous. Overwhelming even!
I am so very excited to share with you our sponsors for the month of November.
Some of these ladies are old friends, some I've met through blogging, and others are brand new friends of mine!
Please, go visit each and every one of them and check out their blogs.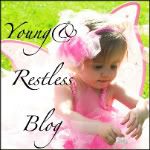 A huge thank you to my November sponsors!
I hope the month brings you lots of blogging fun, as well as time with family and loved ones!
Next month I will be accepting paid sponsorships, along with continuing this Ad Swap. The paid sponsorship will include a larger ad spot, as well as an individual sponsor spotlight feature and several twitter acknowledgments! Sounds cool, right? Let me know if you're interested.....my prices are reasonable ;) We'll be back later with more details, mmmkay?
And finally, if you're new here, go ahead and click the blue "join this site" button on the left. That lets me know that you're reading and you'll get my posts in your Google reader. If that's not your style, you can follow up with us via email, and make sure to check out my Etsy shop and my Pinterest, Twitter, and Facebook pages! (those buttons are the grey squares at the top right of my blog)