As I've said before, 2010 is a tough year for me to say goodbye to. So much good stuff has happened, and my whole world has been completely turned upside down (in a good way), that I get really sentimental, and even a little sad, to turn the calendar page and start a new year.
New Year's is usually a holiday I couldn't care less about. It's an extra day off of work, but usually I don't even give it much thought. I don't care for new year's resolutions, even if I usually think about what I'd like to do differently in the coming year. I'm not one for drinking and partying, so the holiday has always seemed a little silly to me.
This year though, the holiday meant a lot more to me. It meant closing the door on a year that changed my life. Not only did we add a little one to our family, we changed who we were. I'm not just Amanda anymore. Not just a receptionist. Not just a wife or daughter or friend. I'm a mom! This has been the best year of my life! So how do you say goodbye to a year that has brought you more joy, laughter, love, tears, and growth than you ever thought you could experience in just 12 months?
Well, I say you celebrate it. You reminisce, you cherish the memories, and you hold on tight to the lessons that last year taught you. I've been spending the weekend doing just that. Celebrating the fact that God truly blessed me last year. I'm not regretting anything, and I'm not living in the past either. I'm enjoying what has been, and I really am looking forward to this new year of life (even if I can't imagine it being better than this last year)! I hope you're doing the same as we enter into 2011!
Here are some of my favorite pictures from these past 12 months! Of course, they're all of Elliott....what else did you expect?! I really love looking at how much has happened this last year, and seeing how much Ellie has grown. She really has developed from a tiny little baby into a little girl......
In January we met our beautiful little Elliott Erin. We waited so long to meet her......I really didn't know what to expect, and she was even more perfect than I could have imagined, anyways!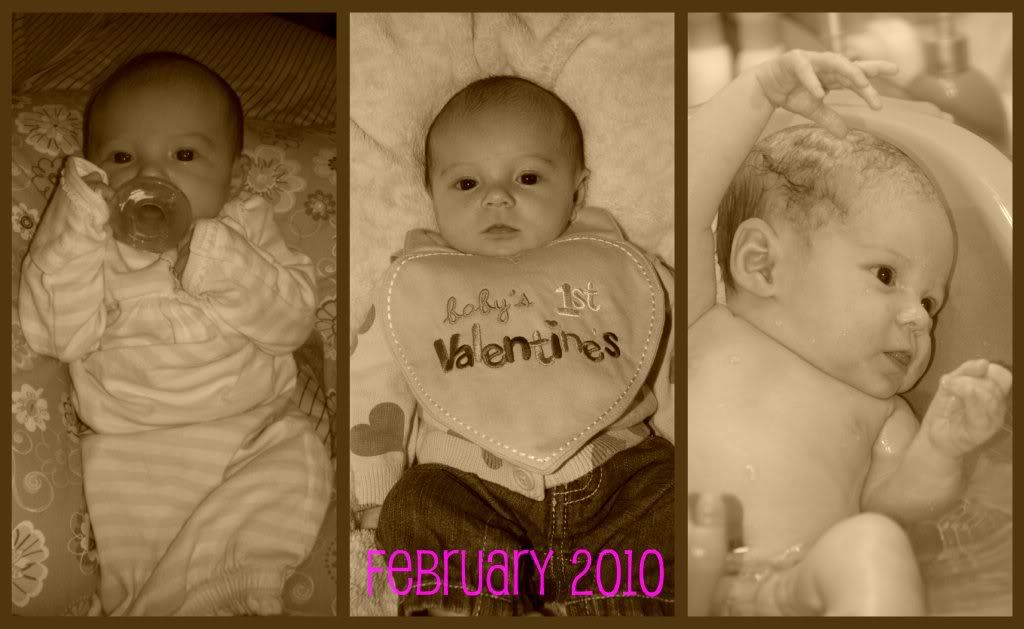 February was a month of love. Getting to know our little girl, and falling more and more in love with her every day.

Elliott got to meet most of her family by March. She has many, many people who love her and that makes me so happy.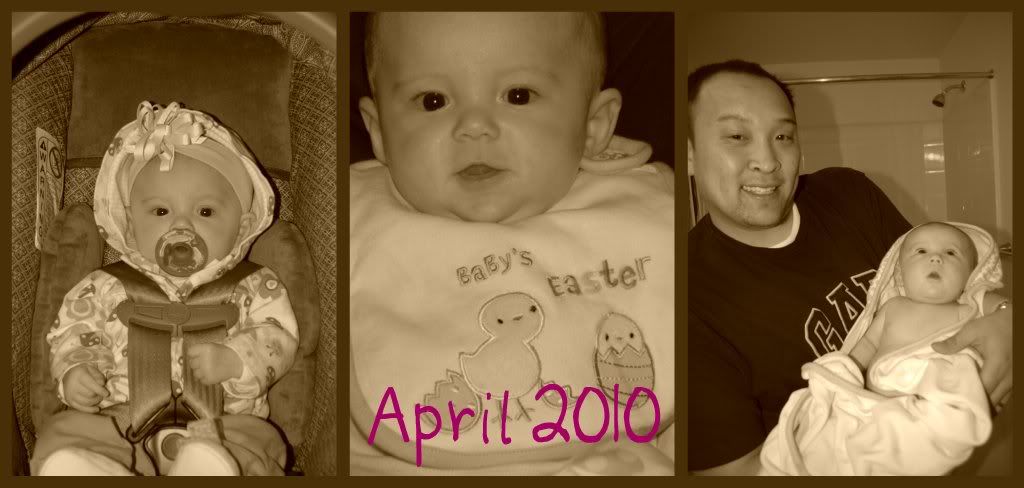 In April we celebrated Ellie's first Easter. I loved dressing her up with matching headbands, and her favorite activity was bathtime.
My first Mother's Day was in May 2010. We had a nice picnic lunch and a walk in the park. Elliott tried the Johnny Jump Up and loved it!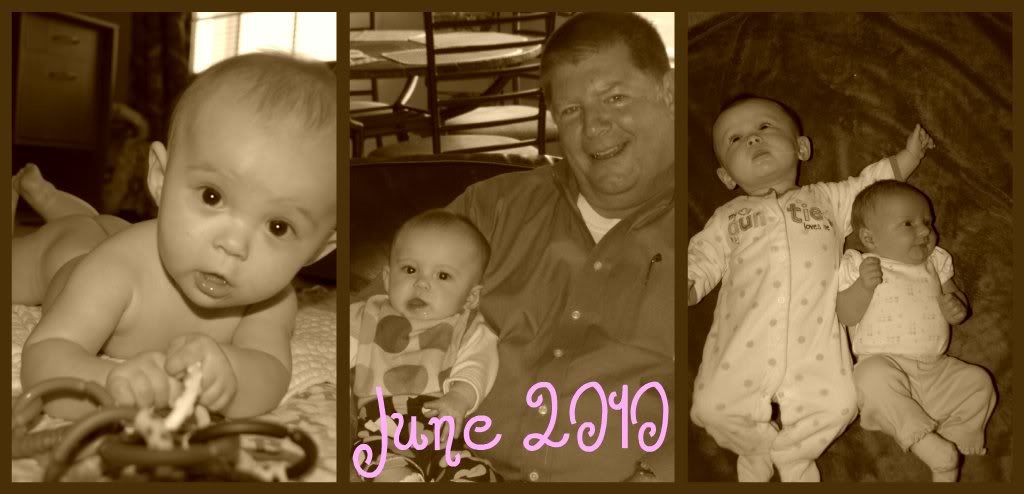 In June we met Elliott's cousin Zoe, and welcomed summer time.
4th of July was a fun holiday spent with family and friends. Elliott's hair finally started to grow in, even if it looked like a mohawk!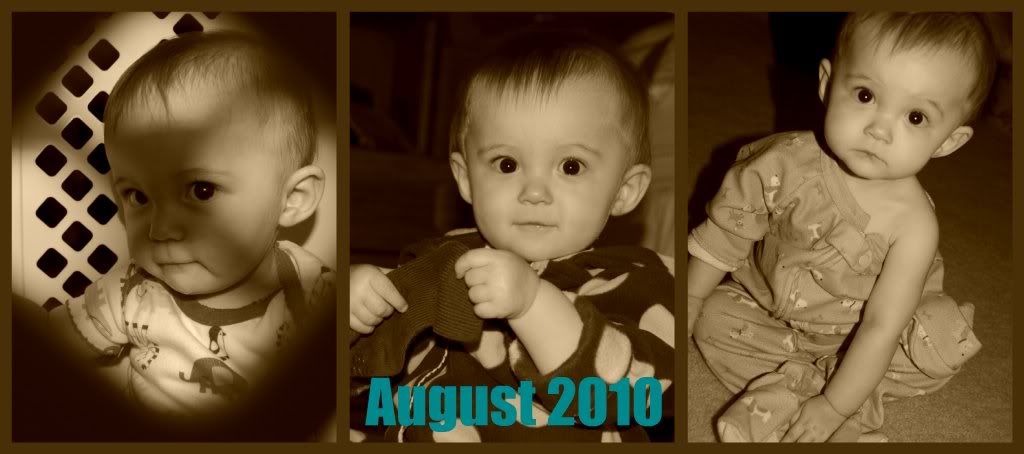 Elliott learned to crawl in August and became much more mobile. She experienced her first camping trip, and (unfortunately) her first run-in with the stomach flu.

September we welcomed fall by going to concerts and donning our favorite football team colors (Go Seahawks and Go Huskies!).
I loved getting to celebrate Ellie's first Halloween in October! She was a cow (too cute) and she loved the pumpkin patch almost as much as I did!

In november we got ready for the holidays, and spent some quality time with our families. Elliott also started getting her first tooth!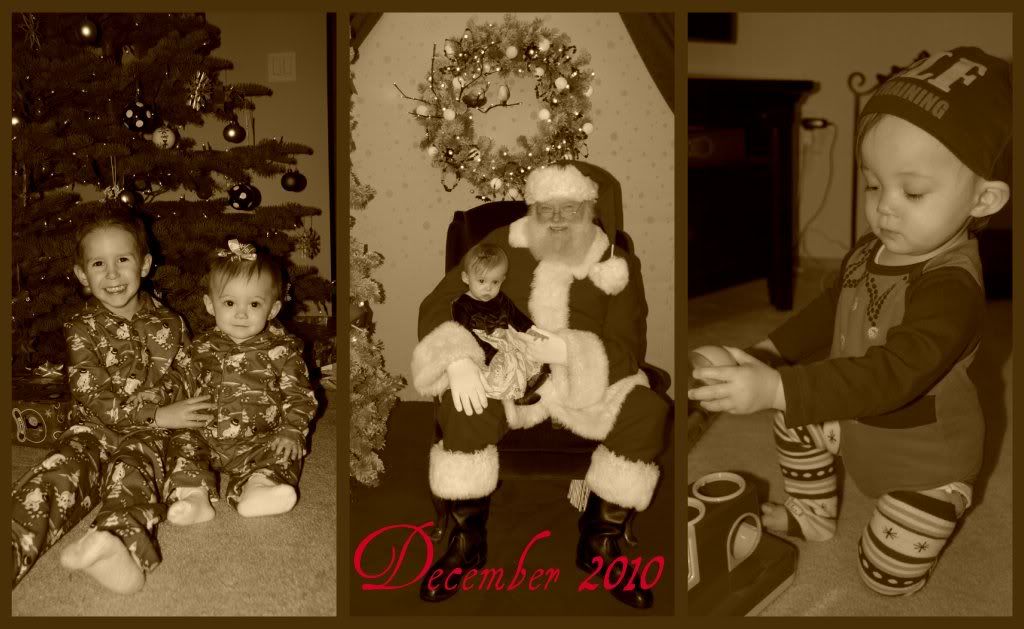 December was full of firsts for Elliott. First time seeing Santa, first Christmas, first steps.....She's well on her way to being a big one year old! I loooove the holiday season, and I'm sad that it's over!
Please take time to enjoy this special time of year.....out with the old and in with the new!
And speaking of new.....we are now on Top Baby Blogs!
Please click on the link below.....it will take you to a page where you can vote for our blog by clicking anywhere near the top of the page. You can do this every single day, and Elliott wishes you would :)
~Amanda