Sunday was a fantastic day! We came home from camping just in time to see Scott for the first time in over two weeks! Ellie was ecstatic, and then we ate mexican food for dinner.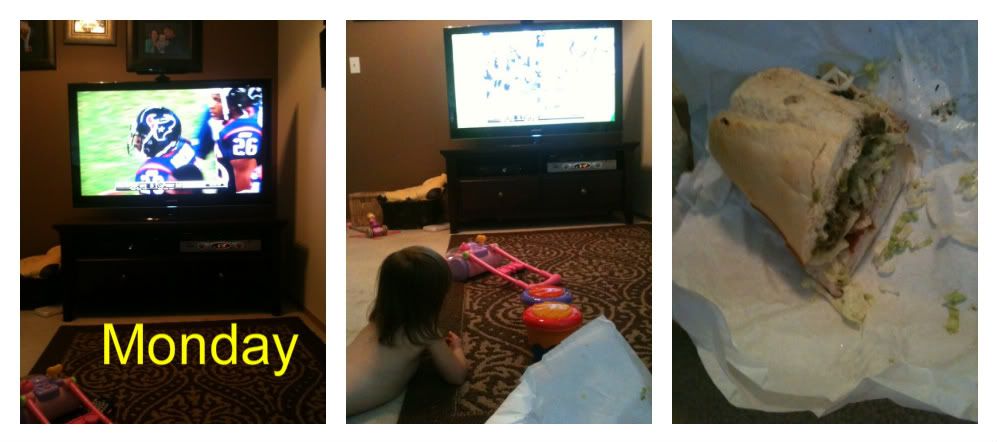 Monday made me realize that fall is almost here, and football will soon control my tv (and my husband). And apparently I'll be a little outnumbered since Ellie took quite an interest in the pre-season game. I secretly enjoy football, especially if I can watch it while eating my favorite sandwich!
Tuesday was a rough day at work. I cheered myself up by packing cute lunch-bags for Elliott and I, and I spent my lunch break shopping the school supply aisle. It was great.

Wednesday morning I painted Ellie's toenails. It had been awhile, and she seemed calm enough to sit still for it. This teal color just happens to go with 90% of her wardrobe :) Scott and Ellie met me on my lunch break for some tacos. When I got back to work, I had to giggle at my collection of beverages. This is an every day occurence for me.
Lately, Ellie spends a little time in our bed after she wakes up. I let her eat a waffle and watch some cartoons. And, I often hear her saying "down?!" and "help?!" while I'm blow-drying my hair. This would be why. Thursday after work we had a quick family meal at Subway (where Elliott had a cookie for dinner. Winning.), and then off to try out some Fro Yo! One word: Delicious!
Friday I might have lost my mind. I was watching my niece and nephew for the day, and decided it would be fun to take them to a playdate at the mall. While I may have looked like a complete basketcase walking through the mall, the day actually went really smoothly! My neice and nephew are so well behaved, and they all had fun playing together! Today I was actually sore from walking the mall while carrying Ellie and pushing the stroller (not to mention the squatting, bending, lifting, and chasing involved in toting around three young kiddos all day).
All in all, not a bad week for returning to work after a week off! Summer is winding down, and I'm looking forward to wrapping up our summer bucket list before all of the fall festivities begin!
Did you take cell phone pics this week??? Then head over to
A Good Life
to grab the code and link up!